2019 Ram 1500 4×4 Hemi
$37,995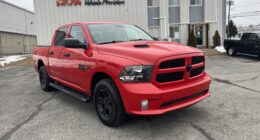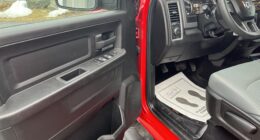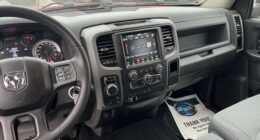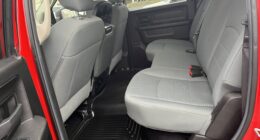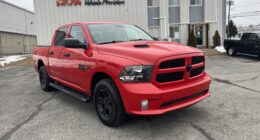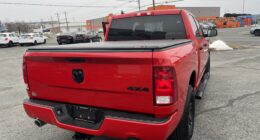 Robust Performance: The Ram 1500 4×4 Hemi is equipped with a mighty 5.7-liter Hemi V8 engine, delivering impressive power and torque for towing and hauling needs. It provides exceptional acceleration and can handle demanding tasks with ease.
Reliability and Durability: Ram trucks have a reputation for their ruggedness and reliability. The 2019 Ram 1500 Hemi is built to withstand the test of time, offering peace of mind and confidence in your investment.
Comfortable Ride: The Ram 1500 Hemi prioritizes a smooth and comfortable ride for both driver and passengers. Its advanced suspension system and refined handling make every journey enjoyable, whether you're on the highway or off the beaten path.
Advanced Safety Features: The Ram 1500 4×4 Hemi prioritizes your safety on and off the road. It is equipped with a range of advanced safety features such as blind-spot monitoring, rear cross-traffic alert, adaptive cruise control, and forward collision warning with automatic emergency braking. These features help you stay aware of your surroundings and mitigate potential risks.
Off-Road Capability: With its 4×4 drivetrain, the Ram 1500 Hemi is built to conquer various terrains. Whether you're navigating rough trails or tackling challenging weather conditions, this truck offers excellent traction and control to keep you moving forward.
Spacious and Luxurious Interior: Step inside the Ram 1500 Hemi, and you'll find a cabin that blends ruggedness with refinement. With ample headroom and legroom, this truck offers a comfortable and inviting space for both the driver and passengers. Premium materials, advanced technology, and thoughtful storage solutions elevate the driving experience.
Innovative Technology: Stay connected and entertained with the Ram 1500's cutting-edge technology features. The Uconnect infotainment system with an intuitive touchscreen display provides access to navigation, Apple CarPlay. Enjoy your favorite music, make hands-free calls, and easily control various functions to enhance your driving experience.
Towing and Payload Capabilities: The Ram 1500 4×4 Hemi is engineered to handle demanding towing and payload tasks. With its impressive towing capacity and payload ratings, this truck is ready to take on your toughest projects, making it an ideal companion for work or recreational activities.